WORD MARK
The word mark modernly expresses KTL's confidence based on advanced technology, over forty years of reli-ability built up between customers and enterprises, and international sense and image that KTL sets the world
standards as Korea's representative institute.. The stable symmetrical shape and the directional triangle
(point) towards the center signifies the confidence of KTL as Korea's No. 1 testing laboratory and our progres-sive mindset as the leader of Korean domestic enterprises making an impact on world. The blue color represents pride and infinite reliability as Korea's top testing evaluation laboratory, and the red color stands for the progres-sive spirit of the organization as a leader in technology standards.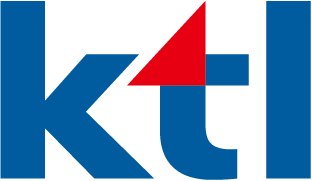 SIGNATURE
The signature combines the word mark and logo types at the optimum proportion and shall be protected from image damage or deformation through precise use in accordance with this Guide Manual after choosing and using the proper signature type of left/right signature or top/bottom signature for appropriate media.
A Type - Korean signature


B Type - English signature

C Type - Korean/English signature

Exclusive color
The exclusive color expression will be PANTONE color (name of color mix table by Pantone Inc.) for print media, but 4 primary printing colors can be used, depending on the nature of the applicable media. The color expression may have subtle differences due to the printing method, ink concentration, and paper features, but it must use the recommended colors (or the most similar colors when unavoidable). Although the colors must follow the specified color values, fine adjustment is allowed for the proper situations.